Quality Timber Office Buildings and Garden Rooms
Our range of garden buildings are designed to be used all year round. With insulated ceilings and walls the new range of bespoke garden buildings will provide a comfortable space come rain or shine.
All of our garden buildings are made to the highest quality and specifications using sustainable timber sources, good quality glazing products and the best quality insulation and are created through an extensive design process that uses many years of experience and the best quality materials to produce truly bespoke and superior quality garden buildings.
Because of the high quality of the materials used in our garden buildings, they always meet safety standards and are kind to the environment because we only use timber from sustainable sources to create frames and roofs which will keep you warm in winter and cool in summer.
Our specifications include:
Pressure impregnated timber framework and timber cladding in a choice of 12 colours
22mm thick Redwood log lap planned all round horizontal timber cladding
Galvanised steel base plate to the building
Plastisol coated steel roof sheets with anti condensation coating as standard in Slate Grey
Steel roof trusses and steel roof purlins.
U.P.V.C. double glazed French doors 1525 × 1875 with 3 point locking and toughened glass available in Anthracite Grey/Silver Grey/Slate Grey/Chartwell Green (Sage) and White
U.P.V.C. double glazed opening window 610 × 1524 with toughened glass available in Anthracite Grey/Silver Grey/Slate Grey/Chartwell Green (Sage) and White
Overhang to the front of the roof by 100mm
Gutters and downpipes to the rear of the building
25mm thick celotex insulation to the ceiling painted white
25mm thick celotex insulation to the walls with 9mm plywood over finished in white emulsion paint and finished off with 75mm Torus moulding skirting board and architrave
Environmental
We are committed to protecting the environment and ensure that our suppliers share that same commitment. They are committed to protecting the environment through the implementation and maintenance of its Timber Purchasing policy. The Timber Purchasing Policy contains the following aims:
To have systems in place to ensure timber purchased meets the Forest Stewardship Council®, forest certification scheme requirements.
Not to purchase timber species detailed on the Convention of International Trade Endangered Species (

CITES

) List Appendix 1 and 2.
The Company shall maintain certification in the Forest Stewardship Councils Chain of Custody scheme requirements and will ensure the scheme requirements are fully implemented within the Company's Management Systems.
The Company will ensure information provided to interested parties relating to the source of timber is accurate and not misleading.
The Company will ensure that all employees associated with the Timber Purchasing and Processing Policy are given the appropriate education and training in Chain of Custody requirements.
SAMPLE BUILDINGS RANGE
Below are just a few examples of the buildings we supply. Whether you are looking for a study, garden office, play room, hobby space or just somewhere to 'chill out', we have a building that is just right for you, whatever your needs.
THE MANHATTAN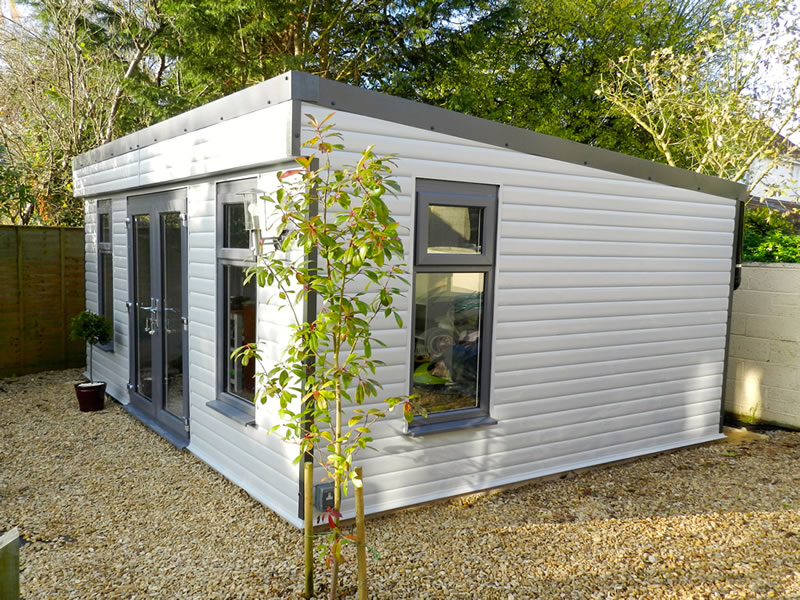 The Manhattan 'By Design" Home office/occasional living space 4m wide x 5m deep finished in Mushroom with anthracite upvc double glazed doors and windows.
Internal walls lined with water proof MDFVboard with an underlined insulated ceiling.
THE RICHMOND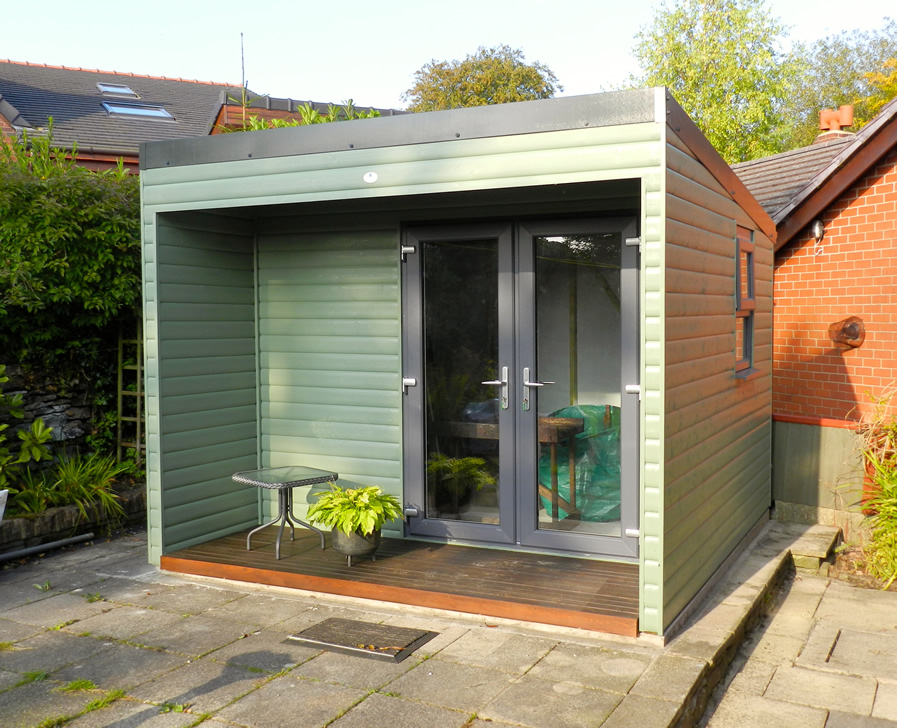 The Richmond is a Contemporary Summer house has been designed and manufactured to the same exacting standards as the Manhattan home office but includes the additional feature of a covered seating area for privacy and includes decking to the front.
The building shown is 3m wide x 3m deep in sage leaf with a 900mm deep seating area.
To be built 1m from boundary to comply with building regulations exceeds 15m².
Internal length of building is 6100mm (2'0″) less to accommodate for the veranda area.
Decking included to front area.
THE PEMBROKE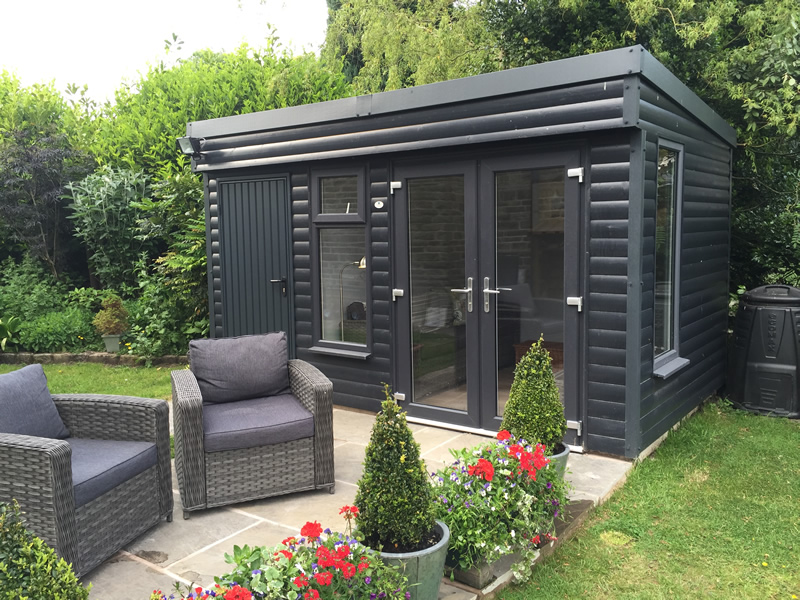 The Pembroke garden room with store 4m wide 2.4m deep in Anthracite with matching Anthracite doors and windows.
Premium Package Includes:
Lined and insulated walls with 25mm celotex and 9mm plywood painted wall panels including architrave and skirting (excludes store).
Lined ceiling with white spray finish 25mm cleotex insulation board (excludes store).
Gutter and down pipe to rear
THE MARQUESS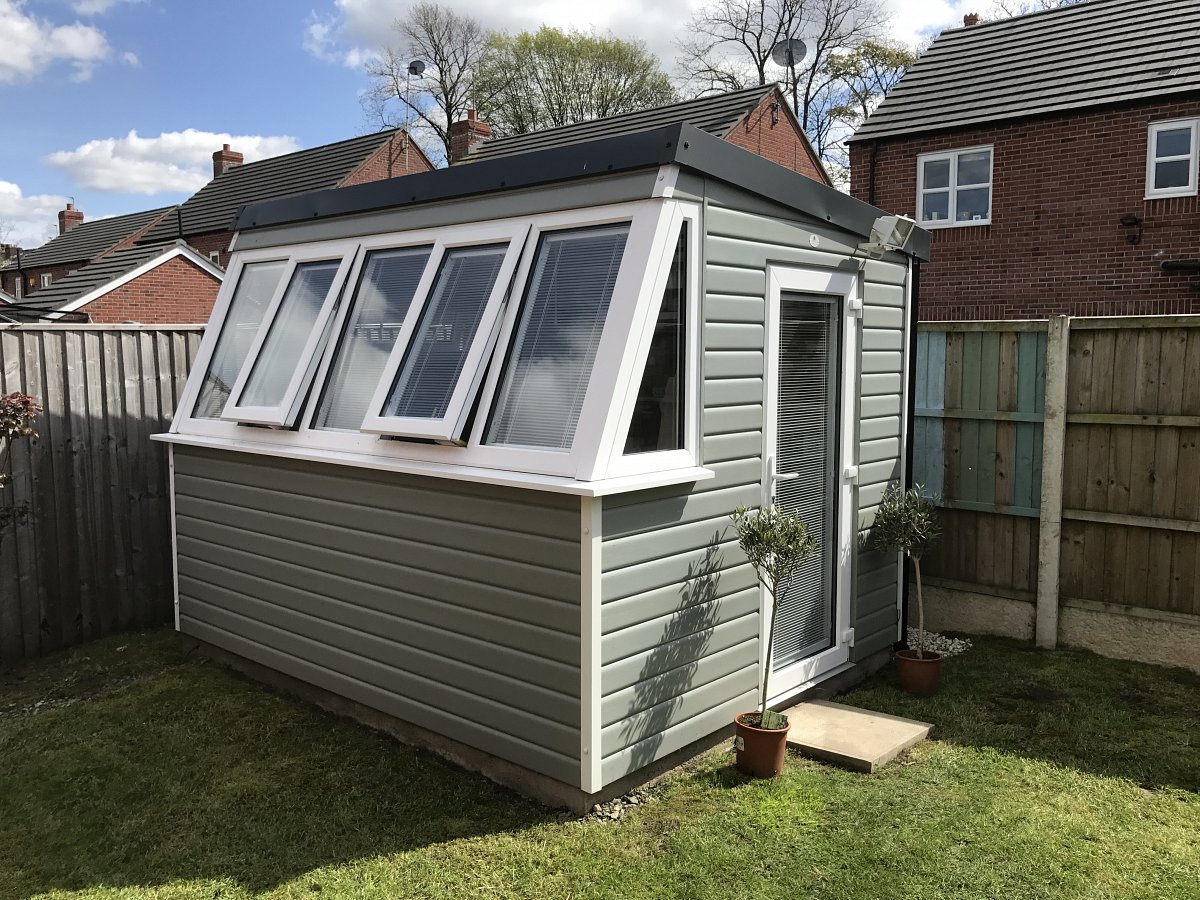 The Marquess is a contemporary compact design and ideal for small spaces. High quality materials and strong structure come as standard with all our buildings and the Marquess is no exception. Perfect for a potting shed, hobby room or garden studio.
INDICATIVE PRICE LIST
As our buildings are bespoke and designed especially to your size and specification, prices are on application. However please find below some indicative prices to help you decide on the building that is right for you and your budget.
Manhattan prices from £6521.00
Manhattan by design with side screens to the front french doors in Mushroom 4.5m wide x 5m long £14870.00
Manhattan in Silver grey with 2 additional windows 5m wide 3m deep £11838.00
Pembroke prices from £8066.00
Pembroke in mushroom* 4.877m wide x 2.743m deep £10796.00
Pembroke in Anthracite 4.2m wide x 2.438m deep with an additional side window £9972.00
COLOURS AND OPTIONAL EXTRAS
To give you the best possible usage experience we have many additional extras available to enable you to personalise your building into one you have always dreamed of. Just speak to one of our advisers who will be happy to help on 01246 580 970 or drop us an email at: support@reallygreensmart.co.uk

With a large number of colours to choose from and Optional Extras you can individualise your building the way you want to.
Like to know more? Get in touch today by email support@reallygreensmart.co.uk or call 01246 580 970 to speak to one of our advisers who will be very happy to help.
Free Consultation